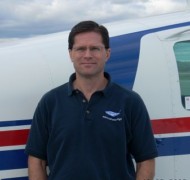 Paul McKeown
Chief Flight Instructor
Paul McKeown, from Turner, Maine, is Maine Instrument Flight's Chief Flight Instructor and has been flying since he was 16 years old. He has worked for MIF for 19 years as a flight instructor and considers himself to be one of those rare "career instructors," racking up nearly 6,000 hours as an instructor. Paul says he still gets excited every time that he steps out of an airplane for a student's first solo flight.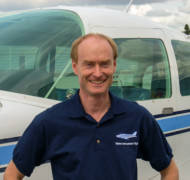 Dale Stewart
Assistant Chief Flight Instructor
Dale Stewart wears several hats at MIF; he serves as one of our assistant chief flight instructors, one of our charter pilots, and, on occasion, exercises the privileges of his A&P Mechanic certificate. Dale has over 9,000 flight hours in a variety of aircraft. His flying career started by taking a seaplane ride in Rangeley, ME and mentioned "the rest is history!" Dale commented that he loves flying because it allows him to see new places.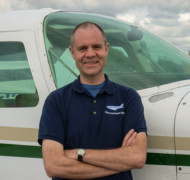 John Wagner
Assistant Chief Flight Instructor
John Wagner began his flight training in 1987 at KOWK in Norridgewock, Maine and transferred to MIF where he completed his advanced training in 2002-2004. When asked what John enjoys most about flying he said "I really enjoy the view. Honestly, I never grow tired of looking at the world anywhere from 500 feet to 35,000." John has over 5,000 hours in various single and multi- engine aircraft, has his CFI, CFII, and MEI, and also serves as one of MIF's charter pilots.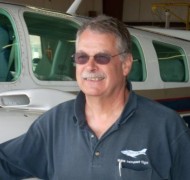 Bruce Robbins
Assistant Chief Flight Instructor
Bruce Robbins began flying in 1971 in Morristown, NJ, completed his private pilot's license in Biddeford, ME, and finished his training thereafter at MIF. Bruce now lives in Hallowell, ME and serves as one of MIF's assistant chief instructors; his interest in flying stemmed from serving in Vietnam and watching the planes and helicopters. He enjoys teaching instrument flying and crosswind landings the most.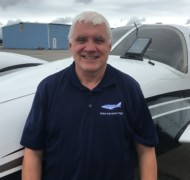 Dan Morin
Assistant Chief Flight Instructor
Dan Morin comes to MIF from New Harbor, Maine and began his flight training while attending the University of Maine where he obtained his Private Pilot's license as a member of the University Aero Club. Dan completed the rest of his training up through CFI, CFII, and MEI while participating in various Air Force aero clubs. Dan thoroughly enjoys all aspects of flight instructing commenting that "seeing the joy and sense of triumph on someone's face after they've flown an airplane for the first time are my favorite moments."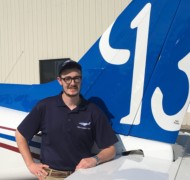 Mark Rowe
Flight Instructor
Mark Rowe was born and raised in Lomé, Togo (West Africa) and attended LeTourneau University where he obtained his Bachelor's degree in Aeronautical Science with a Mission Aviation concentration. Mark is working towards a career in missionary work and maintaining small aircraft in West Africa, where he grew up. He thrives on the opportunities and challenges that aviation brings to him.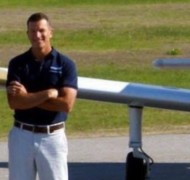 Jeff Weston
Flight Instructor
Jeff Weston is from Los Angeles, California, and has lived in Maine since 2004. He took his first flight lesson in 1999 while stationed in Arizona and has been hooked ever since, ultimately earning his Instrument, Commercial, and CFI ratings through MIF. He's passionate about flying and flight instructing, and enjoys introducing others to aviation, taking an active interest in helping students achieve their goals. Jeff is a retired US Army officer, and former enlisted Marine. He is a graduate of Pittsburg State University, with a BA in English and an MA in Business Management.
Teagan Casey
Flight Instructor
Teagan is truly a home-grown MIF instructor, and it all started with an introductory flight here with Paul McKeown. He grew up in South China, Maine and began his Private training here while a Junior at Cony High School. After completing the Private course as a Senior, he went off to college, but after only a semester decided to come back to MIF to complete his Instrument, Commercial, and Flight Instructor training as fast as he could. It took about 15 months to finish it all and begin working as an Instructor at Maine Instrument. When he's not instructing, you might also catch Teagan out on the ramp fueling, towing, or parking airplanes, as, in addition to his instructing duties, he is a member of our Line Service team. When asked his favorite part of flying, Teagan responded that he most enjoys performing soft field takeoffs.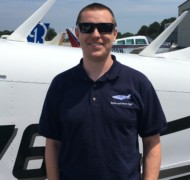 Josh Young
Flight Instructor
Josh Young completed the Army helicopter flight school training in October 2010, and has served in the Maine National Guard since then. Currently a CW2 in the US Army, he flies the UH60 Blackhawk. During his deployment in 2012 Josh learned about the UMA flight/degree program and applied upon his return. He has since added Single Engine Airplane to his Commercial and Instrument ratings. We welcomed Josh to our team of instructors in
January of 2016
 when he earned his CFI.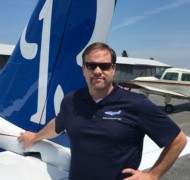 Chad Boothman
Flight Instructor
With a flight instructor for a father, Chad has been flying since he was a kid. He has flown all up and down the East Coast, having trained from Florida to New Jersey to Maine, in a variety of aircraft including multi-engines, experimental aircraft, tailwheels and light sports. He moved to Maine in 2013 and began flight instructing soon after. He commented that one of his most memorable flights was in a 65 knot Light Sport airplane from central Florida to central New Jersey in 19 legs.